While film and television have a long tradition in tourism marketing, the potential of video games is often overlooked. This study unlocks a novel part of tourism marketing by investigating the interplay between experiential factors and in-game experiences, and how they may contribute to one's intention to visit in-game destinations. The video game Assassin's Creed Odyssey has been the basis for conducting this research paper. With new types of media-induced tourism, market opportunities emerge for using video games for the tourism branch.
Video-game induced tourism
With the advent of the experience economy, marketers have been attempting to engage potential tourists in pre-trip stages. By using various media, such as television programs, films, and increasingly, video games, marketers seek to connect the destination image with the future visitation of guests. Previous research mainly focused on the impact of film and television. This study seeks to understand the potential of video games as a marketing tool in the tourism industry. What sets this new branch of media-related tourism apart from film and television, is in that it gives gamers an opportunity to freely roam in a virtual world and stroll around like tourists. Destinations can be (virtually) visited and evaluated before the actual stay.
On the other side of the coin, gamers make up a relatively small part of the tourism market, which renders it unfeasible for game developers to design tourism-specific games exclusively for this group. In addition, an important part of the experience economy relates to creating memorabilia and transformation in the sense of inner growth. However, the majority of popular video games are violent by nature which can be difficult to connect to tourists' needs.
In general, there is a strong focus on tourist motivations and the destination image, but the experience economy's most fundamental concept – experience – is often overlooked. Therefore, this study aims to explore experiential factors that are influential to in-game experiences and simultaneously how they may contribute to gamers' intention to visit in-game locations.
Study Context: Assassin's Creed Odyssey
The action role-playing video game 'Assassin's Creed Odyssey was selected as the study context. The story centres on the Peloponnesian War, an ancient Greek war, between Athens and Sparta. Gamers are allowed to choose the main character and can develop relationships with non-player characters (NPCs). Within the game, gamers can virtually explore the culture, history, and beauty of the ancient Greek world. The video game is designed in a non-violent concept, which is what makes it suitable in video game-induced tourism.
Sample and Sampling Procedures
A qualitative in-depth interview approach was used in this exploratory study. A purposive sampling technique was applied to invite people experienced in Assassin's Creed Odyssey. Participants with considerable experience playing the game were recruited through social media channels, gamer forums, and the researchers' personal contacts in the game industry. A total of 12 participants were interviewed, ranging between 20 to 37 years old. On average, participants spent about eight hours on video games per week and have been playing for seven years. More than half of them (58%) have travelled to Greece.
The semi-structured interviews lasted 30 minutes each and centered on a) emotional experiences, b) atmosphere, culture, history, and nature of in-game locations, c) perceptions towards the plot, d) personal connection with the character, e) perceptions towards in-game functions, f) resembling of the real-life setting, as well as g) intention to visit in-game locations.
Due to the infancy of video game-induced tourism, an inductive thematic analysis was adopted to uncover emerging patterns and re-occurring phenomena. Five main themes with 30 experiential sub-themes were identified, which overall, enhance participants' intention to visit the destination.
Results
This study conceptualises five main experiential marketing factors that are influential to in-game experiences and one's intention to visit Greece, namely a) game world dynamics, b) level of immersion, c) level of freedom, d) connection to the characters – being 'the hero', and e) sense of realism. See Figure 1 'Experiential marketing pillars of video game-induced tourism'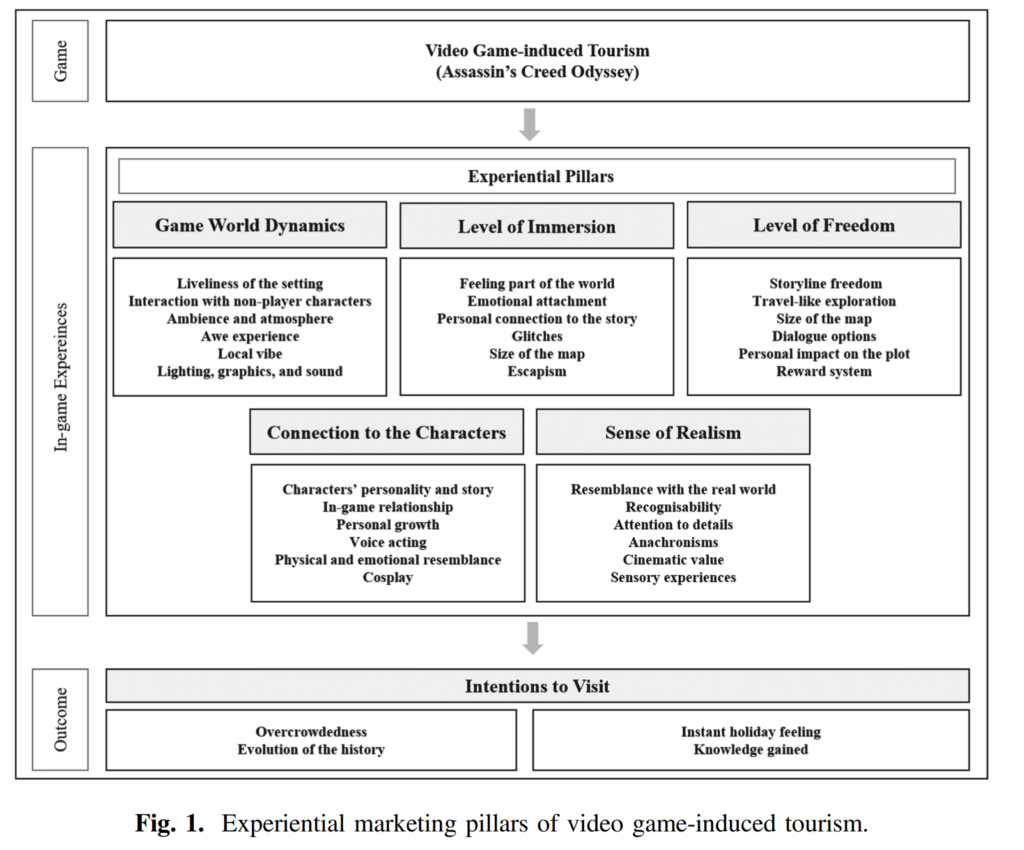 .
Game world dynamics
The dynamics of the in-game world is found to be one of the most important factors to players. An exemplary quote is, 'The cities were very alive with many people walking around and doing their daily things, […] like I was walking through the cities myself'. As video games often offer a higher level of interactivity, interactions with NPCs serve as key drivers in making the experiences more active and engaging. Meanwhile, the ambiance and atmosphere of the virtual environment left most of the players in awe, characterised as one of the most intense and positive emotional experiences.
Level of immersion
Immersion is another factor that influences the destination choice of gamers. Several participants stated that they felt part of the world and that they were really walking through ancient Greece (e.g., 'I was immersed automatically […] you are more focused on learning new things, and you run to the different point').
Level of freedom
The third pillar is the extent of freedom which players are offered. Some gamers emphasised that the freedom to explore the game world resembled travelling in real life, such as 'You could travel freely and if I would go to Greece, I would want to do island hopping, as I did in the game'. One of the main features that enhanced the feeling of freedom is the size of the map in the game that allowed one to keep exploring new things and the open dialogue function.
Connection to the characters
Several participants indicated that they felt personally connected to the main character in terms of his/her background story and ideas. Some participants would like to even follow the footsteps of the character in real life by visiting the in-game locations. For instance, 'I can follow my footsteps in the game. I would really consider doing this [in reality] to see how everything is compared to in the game'. This notion of building in-game relationships, as also described by Teng, affected the gamers in a way they experienced the sense of escapism and temporarily residing in an alternative world.
Sense of realism
As for the sense of realism, participants compared in-game locations with what they have already seen in real life. Interestingly, the recognisability of in-game locations also contributes to the level of realism (e.g., 'You could recognise some of the landmarks and it was amazing to find all these things, wander around Greece just from behind your desk actually'. However, some of the participants added that games would never replace the actual experience of visiting a destination despite the richness of sensory experiences (e.g., 'I think if to stimulate this gaming experience in relation to holidays, a game can never replace the actual experience in the game')
Conclusion
Overall, the destination image of Greece has changed slightly as a result of playing the game. It is usually a combination of the previous knowledge or image about the destination and what gamers have learned during the game.
Noteworthy to mention, is that although the identified pillars, per se, may not directly motivate one's visitation, experiential marketing does play an important role in facilitating and influencing gamers' subsequent actions. Altogether, the experiential factors discussed above co-shape gamers' willingness to visit some of the in-game locations in real life.
By uncovering key experiential marketing factors that are compelling to in-game experiences and intention to visit in-game locations, this study contributes to novel ways of understanding video game-induced tourism by bringing knowledge from the lens of experience design. This study is valuable in that it expands the status quo of in-game marketing and adds empirical knowledge to experiential marketing practices and the broader field of media-induced tourism literature.
For more information about the study visit:
To cite this article:
Rainoldi, M., van der Winckel, A., Yu, J. and Neuhofer, B. (2022). Video Game Experiential Marketing in Tourism: Designing for Experiences. In Stienmetz, J.L., Ferrer-Rosell, B., Massimo, D. (Hg.) Information and Communication Technologies in Tourism 2022. Cham, Springer, pp. 3-15.