At this year's International Conference on Events (ICE) 2023, FH Salzburg was well represented with no fewer than three contributions by FH-Prof. Barbara Neuhofer and two IMT Master's students. This year organised in Warsaw, Poland, ICE 2023 evolved around 'Transformational Events' now and in the near future.
Making Waves in Events: ICE 2023
This year's biannual ICE marks the sixth international conference of 'Making Waves in Events' organised by events and festival academics to advance knowledge in research and practitioners in the industry. Over the past ten years, ICE has been organised across continents, connecting people on a global level.
Presentation 1: Transformative Experiences through Dark Tourism Sites
IMT student Christopher Cunliffe presented his Master's thesis research together with Barbara at the ICE Conference. Together they presented the research of transformative experiences (TEs) triggered at dark tourism sites, particularly focusing on positive transformational outcomes through meaning-making after visiting dark tourism sites.
Keynote Transformational Leadership
On day 2, FH-Prof. Dr. Barbara Neuhofer was invited to give a keynote on 'The Future of Transformative Event Experiences". She explained how the experience economy is evolving into a transformation economy and how this may impact the events industry. Also interdisciplinary concepts including the PERMA model coming from positive psychology and the concepts of Kensho and Satori were discussed in the light of transformative event design.  The future of events are bright and even more so if we expand communities by bridging practice and research on the topics of multi-stakeholder perspectives, design of all event phases and job requirements and roles across the transformative event ecosystem.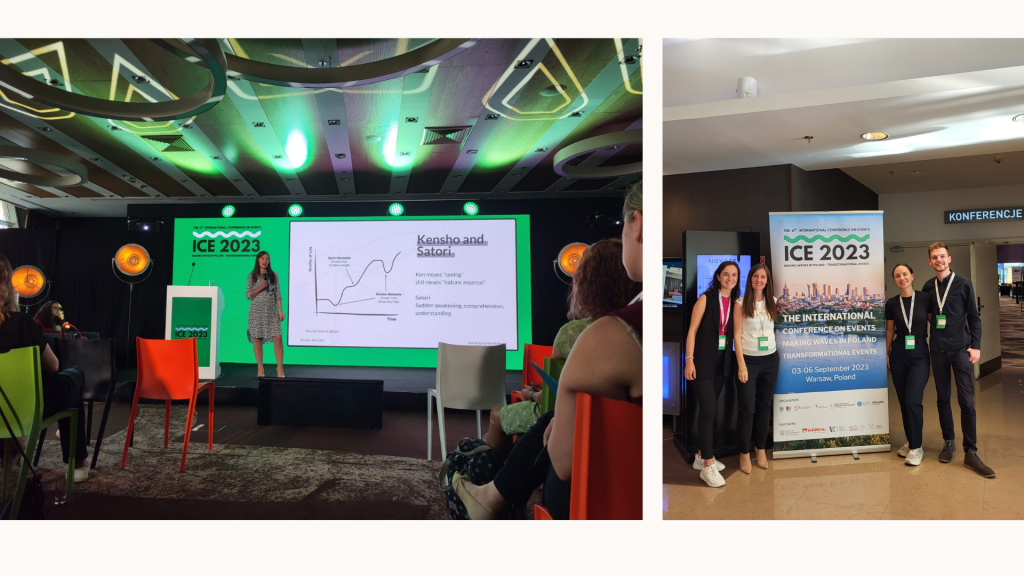 Presentation 2: Value co-creation and co-destruction at transformative events: a multi-stakeholders perspective
Finally, another IMT Master's student, Nieke Dieteren, presented together with Barbara a Master's thesis spin-off paper on how various stakeholders at transformative events have the potential to co-create and co-destruct value. Through the collection of 31 interviews, three main groups of stakeholders at transformative events have been identified and four social practices between stakeholders have been determined as summarised.
The paper is currently in the process of being published in an international scientific journal and the results will be made available and shared soon. Stay tuned for more on this topic.
Student Experience
Looking back at the ICE 2023, it was an engaging, immersive and unforgettable experience in an international setting. Chris and Nieke said the following:
It was a great experience to travel to a new culture and country in Poland with my classmates and friends while meeting many event industry specialists. A great opportunity to learn, network and dive into the world of contemporary event design.

Nieke, IMTe-21 Master student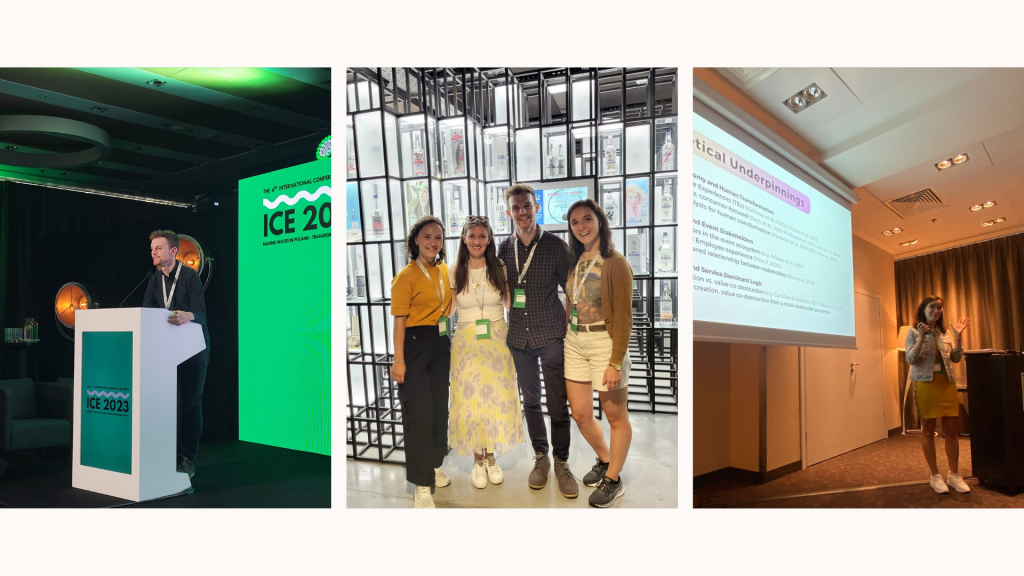 An event created and attended by the biggest event experts in the industry has to be impressive and it didn't disappoint! A collaborative, thought-provoking and fun atmosphere which challenged the future of events, uncovering the real meaning behind them

Chris, IMTe-21 Master student
Events are great opportunities indeed to expand one's network learn about industry trends and get inspired. Which event is next on your agenda?
Photo Credit: